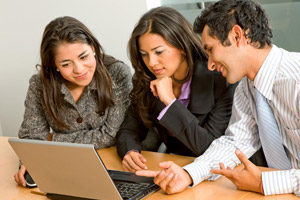 We have the most up to date IRS Approved professional tax software available in the industry today. Our software is cloud based," for your ease of use from wherever you are. You will also have the ability to prepare returns from a smart phone or tablet pc. It is very user-friendly and easy to learn.
Should you need assistance, our staff has many years of experience using our software and preparing tax returns. They are able to answer any questions you may have when the pressure is on not only during tax season but year-round … Bilingual Support Available.
• Complete 1040 package with all states and forms
• Complete Corporate package with all states and forms
• The quickest refund estimator in the industry
• Direct link to "Where's My Refund" and the program inputs all of the necessary information for you
• IRS due diligence safeguards
• IRS Audit Protection for taxpayers
• Detailed reporting
• The best paperless solution in the industry with the ability to email returns securely to customers
• Print checks from anywhere with web check printing
• Complete conversion from your previous software.